By ambar on Sep 24, 2011 in Business, Management, Marketing
Recently, I was at Adtech in London to meet a few friends and also to find out on the new updates in the digital marketing scene. Whilst I was there, I had the opportunity to meet Miss Gail Power, the Director of Online Sales at Facebook, who was doing a special presentation on how businesses can benefit from using Facebook.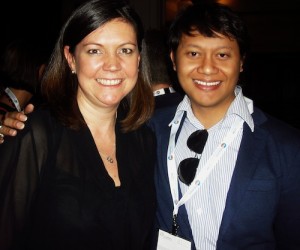 In brief, her presentation key points were;
750 Million users worldwide and growing!
New companies exist and flourishing due to social networking – Zynga Game Network
Cityville had 100 Million user signups in the first 43 days! – Power of Social Gaming
Companies like Amazon and Groupon use Facebook to create effective branding and sales
The royal family launched an app for people to share their experiences during Prince William Royal Wedding. It has helped improve the public 'likeability' towards the Royal Family.
Facebook Fan page should be used by businesses everywhere and benefit from Facebook userbase profiling.
Improved Facebook advertising through social recommendation: Potential customers are 4 times more likely to purchase with 100% product recall.
In Gail's words on the new Facebook Advertising, "Word of mouth at scale like you've never heard before!"
You can watch her keynote presentation here:

Let me know what you think..
Ambar Hamid
PS: If you are a company and you are looking to increase customer base through strategic partnership with Facebook Ads then please do not hesitate to contact me to see how you can improve your business significantly within the next few days and the coming weeks!