By ambar on Dec 27, 2012 in Business, Management, Marketing, Motivation
A while back ago, a good friend have asked me to do a Vision Board together and I politely declined. I am a very skeptic guy. I don't usually accept most new things that people propose to me. I usually take my own time before I make the decision to either accept or decline the offer. To be honest, I just didn't believe that it would work!
Anyway, just to cut the story short, this friend came up to me at the end of that year and said that he had achieved most things that he had included in his Vision Board. I was mesmerised and I thought that there was no way that I wouldn't be part of this!
I went home that evening and started to create a new Vision Board of my own. I went online to look for pictures of interest and printed it out. I also looked for pictures of my 'dream' in the magazines and newspapers and pasted it all on my Vision Board.
The Vision Board remained in my bedroom throughout that year. I see it everytime when I woke and before I went to bed. It was always in my conscious and subconscious mind.
Now here's the weird thing. At the end of that year, I had achieved most of the things that I wanted and experience. It was incredible. I was ecstatic!! ….and since that day, I've never failed in creating and designing my Vision Board. The result is very consistent to this day!!
I had to share the results of my Vision Board with my friends on Facebook. This year alone (in 2012), I had achieved almost 75% of my Vision Board. Again, very consistent from the previous years. Here's a 'cut out' of the FB post.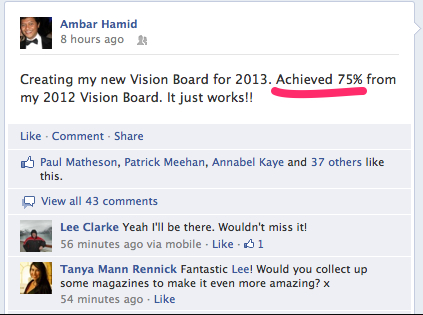 I cannot emphasise more about the importance in creating your own Vision Boards. Come along to my fun Vision Board Creation workshop that is held on the first week of January each and every year. Subscribe to my email newsletter to find out more on the details!
All the best and Happy Visual Boarding!!

Ambar Hamid.